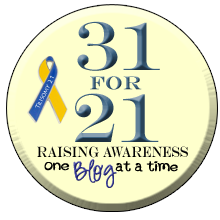 Remember in October last year, the challenge to do a post everyday in October for someone with Down Syndrome (as my little brother)?
October is Down Syndrome Awareness month. The challenge is to post everyday in the 31 days of October to raise awareness about Trisomy 21. So, 31 for 21!
Here is why I am planning on doing it (it starts tomorrow!):
My little 5yo brother with DS is really why I have this blog. He has gluten and dairy allergies, and I bake for his allergies. Being gluten and
cow
dairy free (he lives on goat milk!) he is a very happy, funny little boy.
I'm not sure all I'm going to post . . . I have a few ready, but other than that . . . I'll have to take it day by day.
Soooooo, are you doing it? Do you know someone with Trisomy 21? If you do, good for you, because I know my little brother is such a joy to have around!!!
~ Hanunyah
PS. I hope you'll have a good fall! I'm looking forward to this fall baking season.