Oops! I sort of forgot about the Chocolate Chunk Cookies I mentioned in one of my last posts . . . sorry ;). I'm still here, we've been busy with kidding/lambing season here.
Well, when people think of chocolate it is usually somehow linked with sugar. But it's this simple: cocoa powder does not have sugar in it. It's that simple. Add some good fat and a touch of honey to that powder. Let it set.
Chewy cookies with a touch of the sweetness of honey, add some . . . sugar-free chocolate. You got it.
The chocolate chunks actually have the taste and texture of chocolate, nice and smooth. My sugar-free friend - who really likes chocolate - was so excited that I made her something chocolate. And when she tasted it? Yep, it was a success.
Now, I'm not exactly sure if these are GAPS legal because of the cocoa. Some say "yes", others say "no". I didn't do extensive research about it, but you may decide for yourself, if you're on the GAPS diet.
Chocolate Chunk Cookies (Grain, Gluten, Dairy, Sugar, Corn, Soy, Gum, etc. FREE)
Ideas from Whole New Mom and Nourished and Nurtured
1/2 cup cocoa
1/2 cup coconut oil
2 tablespoons honey
, to taste
2 cups almond meal/flour
1/2 teaspoon sea salt
1/4 teaspoon baking soda
1 egg
2 tablespoons coconut oil
1/4 cup honey
1. In a small saucepan combine the first 3 ingredients. Melt together over medium heat, stirring constantly - be careful not to burn this mixture. Pour into a small bowl or dish. Place in the refrigerator or freezer for a few minutes.
2. Meanwhile, preheat the oven to 350 degrees F. Combine all the remaining ingredients to form a dough. Remove the chocolate mixture from the freezer and chop into small pieces. Stir the chocolate chunks into the cookie dough.
3. Drop the dough by a spoon onto a cookie sheet greased with coconut oil. Bake for 7 to 12 minutes, depending on size and shape of the cookies. Remove from oven and let cool on the cookie sheets for a few minutes before transferring to a wire rack (or your mouth ;) ) to cool completely.
~ Hanunyah
Linked to: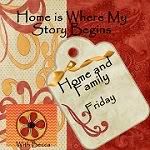 Link Party @ the space between
creative juices @ momnivore's dilemma